Friday wasn't a great day for a lot of traders. I know quite a few that got chopped up in the market action.
That's why I told Weekly Money Multiplier Members to remain patient.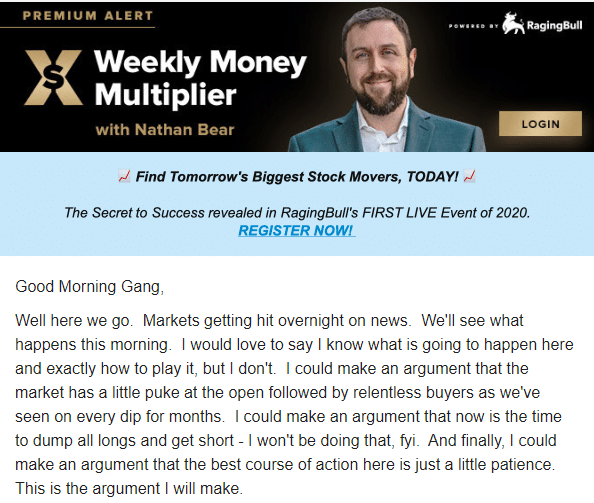 The best traders adjust to market conditions.
As I thought through my picks for this week, I looked to my friend and Penny Stock Mavin, Jeff Williams. He consistently cashes in by trading uncorrelated stocks.
What does that mean?
When there is a strong trend (bullish or bearish) the majority of stocks tend to lean in that direction. However, we call stocks that are moving to the beat of their drum as—uncorrelated.
That's why this week's three trades give you a balance of long and short positions. With geopolitical risks abound, I want a neutral portfolio.
And if you want to catch some LIVE trades, join Jeff Williams Tuesday at 2 PM EST for his free webinar.
Garmin (GRMN)
Garmin was one of those companies that could have easily disappeared over the years. Believe it or not, people used physical maps and then printed off yahoo directions before Garmin changed everything. Eventually, the company found its niche in GPS equipment for retail and commercial use across the world.
What interests me most about the company is their chart. After a record run the stock spent the last several weeks consolidating near all-time highs.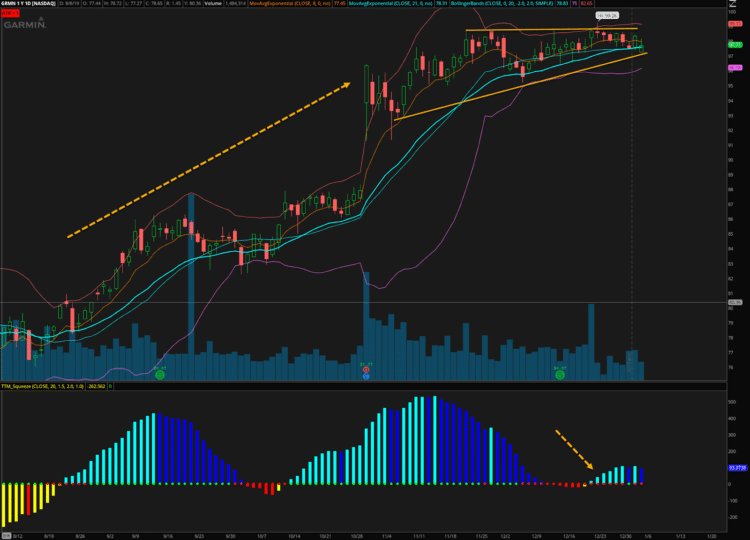 GRMN daily chart
You probably aren't surprised to know this stock follows my TPS setup. The TPS setup has three components:
Trend – If you look at the chart, you will notice that the stock made a significant move higher before reaching its current consolidation. This identifies a strong uptrend.
Pattern – The trendline that connects the top of the candlesticks frames out of the upper portion of the pattern, while the trend line that connects the bottoms of the candlesticks creates the lower portion.
Squeeze – Squeeze is formed when the Bollinger Band indicator trading inside of the Keltner channel indicator. This shows a contraction and trace occurring over time.
What I really like about the stock is how the general price consolidation still moves upward. That tells me that there is solid pricing pressure to the upside even in a difficult market.
I would play this trade with a target after the 127.2% extension and a stop if the stock closes below the lower Bollinger Band.
Netflix (NFLX) 
Netflix just can't seem to get off the mat. Since it reported poor earnings in 2019, Netflix has struggled to maintain any rally. I've traded this stock to the short side several times in the past few months along with several other gurus.
The trick to this play is selling into resistance off rallies. Even with Friday's selloff, this is a solid resistance level to play.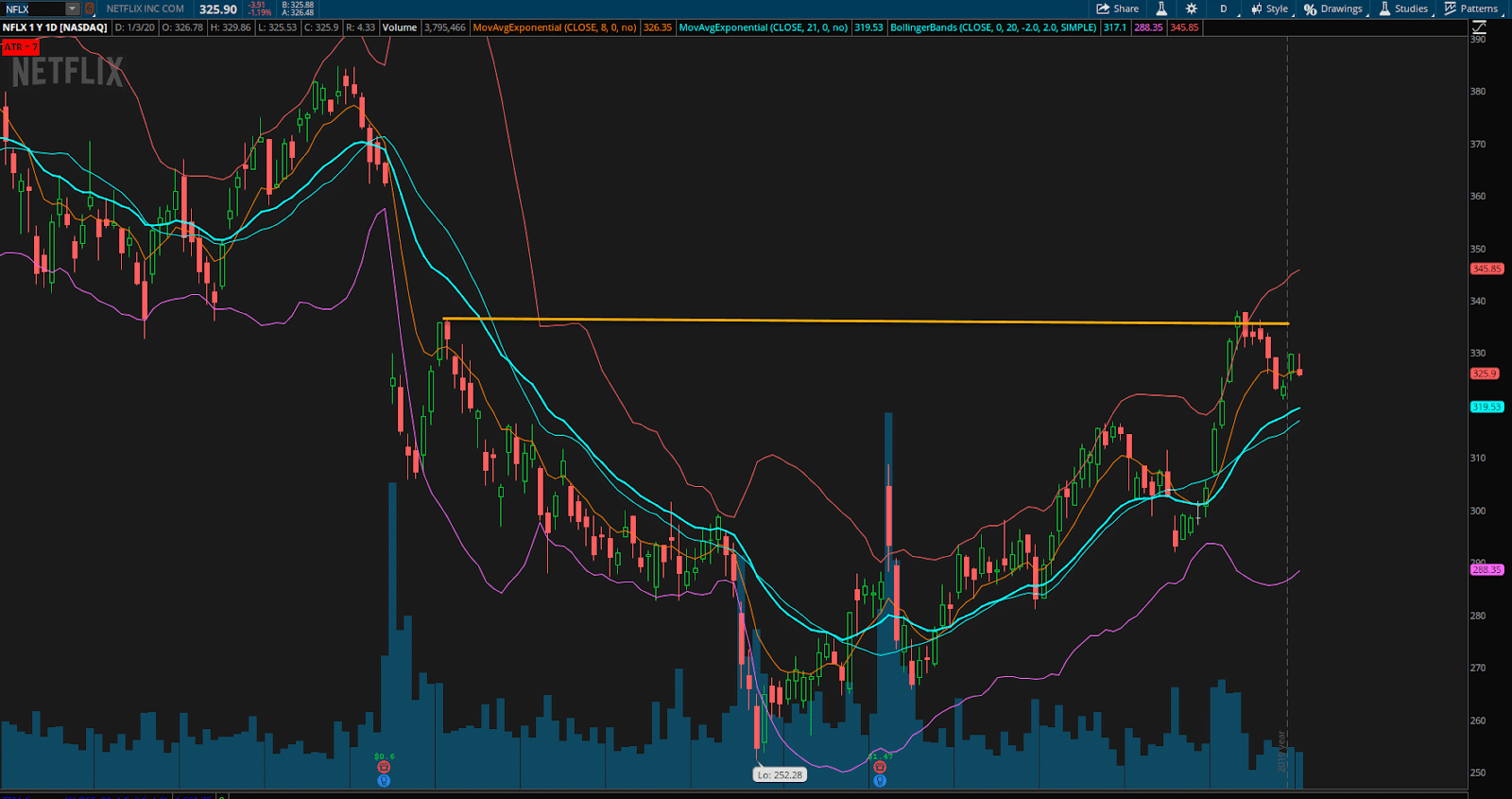 NFLX daily chart
I prefer to play this trade with a call credit spread. That involves selling one option contract at a strike at or just out-of-the-money and then buying another above it.
Note: You need to purchase the same number of contracts for each strike and the same expiration.
This pays a credit. The goal is to have the stock trading at or below the lowest strike price by expiration. That lets you keep the entire credit. Your total risk is the difference between the strike prices less the credit you get paid.
Here's a quick example:
I sell the $340 call option that expires in two weeks for $3.00

I then buy the $345 call option that expires in two weeks for $2.00

My net credit received is $3 – $2 = $1.00 x 100 shares per contract = $100

My maximum risk is $345 – $340 – $1 = $4 x 100 shares per contract = $400.
Ideally, I'd want to go out 2-3 weeks. That gives me enough time to let the stock collapse further, and take off the trade at a partial profit if I choose. That means I can close the trade for $50, which would be 50% of the maximum profit. If the stock offers me this chance after only a few days in the trade, I'll be sure to take that choice.
Avery Dennison (AVY)
This is a trade I'm actually in right now! I alerted Weekly Money Multiplier Members earlier this week about my plans for this trade.
Here's the email I sent out to members below:
As you might expect, it follows my classic TPS setup. This one uses the daily chart. Unlike Garmin, this chart has a bit more volatility to it.
You can see the strong uptrend, the consolidation pattern, and the squeeze (noted by the red dots at the bottom). As before, I want to see this trade push up past the highs and into new territory.
I like this trade because Avery Denison doesn't tend to trade with the broader market. It's a smaller stock that likes to do its own thing. That makes this an ideal trade for a market that could move around a lot from day-to-day.
How Do You Make Money Trading?
I get a lot of questions about how I turned my trading around. Let me answer that for you. I have a free training starting soon where you can learn how I turned $38,000 into over $2,000,000 in two years.
This live training explains how I came up with my own TPS system. You're guaranteed to learn something new.